Shia LaBeouf was arrested early Sunday morning for DUI after being involved in a two-vehicle crash, which injured himself, his passenger and the driver of the other vehicle, reports E! News.
LaBeouf was allegedly making a left turn in Los Angeles when his Ford F-150 pickup truck struck another car and rolled over twice.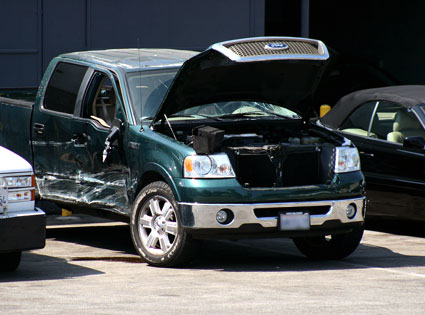 Shia LaBeouf's Ford F-150 after the wreck
Although he was only arrested for a misdemeanor, he had to have surgery on his hand this morning at Cedars-Sinai Medical Center in Los Angeles.  LaBeouf also sustained what officials described as minor injuries to his head and knee.
LaBeouf's female passenger and the woman driving the other vehicle suffered only minor injuries.  Both women were treated and released from Cedars-Sinai Medical Center.
The 22-year-old actor recently starred in the Indiana Jones and Transformers movies and used to act on a Disney television show in his younger years.
Ford F-150 trucks range from $17,900 to upwards of $30,000+.  After rolling his over twice, we can only guess that Shia's insurance rates will go through the roof with an accident and a DUI arrest on his record.
Top photo via www.styletraxx.com.  Bottom photo via www.pacificcoastnews.com.